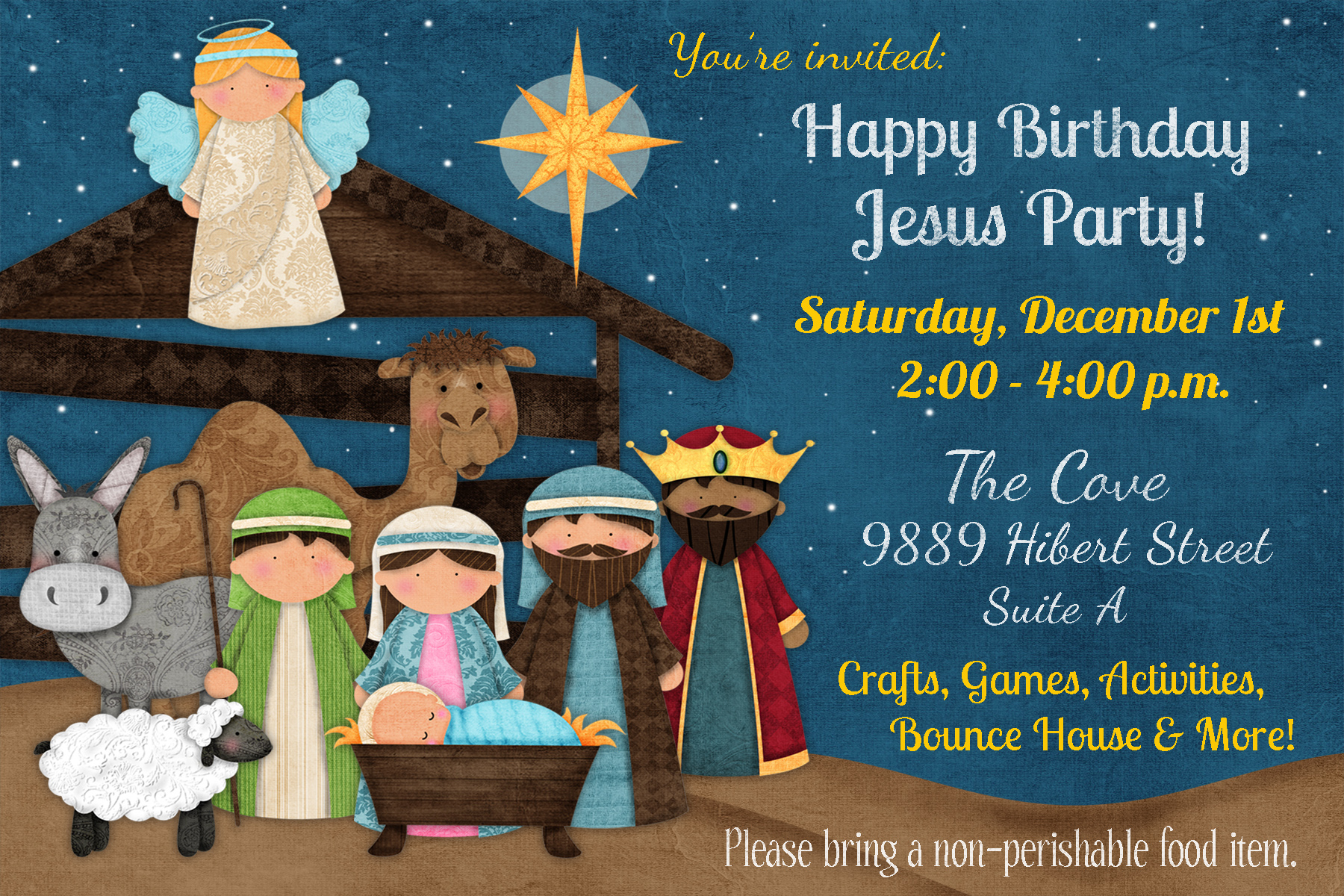 Happy Birthday Jesus Party!
December 1, 2018 @ 2:00 pm

-

4:00 pm

|

FREE!
Happy Birthday Jesus Party
Who doesn't love a good birthday party? Come and experience the real meaning of Christmas like never before as we throw a big birthday bash for our savior, Jesus Christ! Kids will play games, do crafts, play in the bounce house, participate in a scavenger hunt, and create keepsakes that will forever remind them of the birth of Jesus and the Christmas story. Parents can enjoy the family photo booth and the hot chocolate station while being reminded of the true meaning of Christmas.
An Interactive Christmas Experience for the Whole Family!
This is an adventure for the whole family; you don't want to miss it! If you're looking for a great way to share the love of Jesus with your friends and neighbors at Christmas, invite someone today!
Children and their families will have a blast as they participate in all of the FUN a birthday party has to offer.  In lieu of a birthday gift, we are asking our guests if they would be willing to bring a non-perishable food item so we can give back to those in need.  We will decorate Christmas cookies, play games, and some children will have the opportunity to hear the true Christmas story for the very first time!
Event Details
What: Happy Birthday Jesus Party for the Whole Family!
Who: Anyone! Adults and Families are very welcome! Invite your neighbors too.
When: Saturday, December 1, 2018
Time: 2:00pm – 4:00pm
Where: The Cove
Cost: $0 aka FREE.
Info: Email lesley@canyonsprings.org
How Can You Help?
The mission of Canyon Springs is, "It's about the one." That next one might be in your family, your neighborhood, or your office and their first introduction might be at the Miracle of Jesus. Not only does this event come with financial costs, there have been dozens and dozens of volunteers helping over weeks and months. Help is always appreciated leading up to and at the event as well. It is our hope that we would be able to invite all members of our community to attend this great event without having ask for donations or charge admission. We are excited about the opportunity to share the love of Jesus with your friends and our community! Here are different ways you can help:
Come to the event and invite your friends!
Pray for the next one!
Help at the event on December 1st from 2-4 pm
Share this event with a friend